BELOW IS THE FULL COURSE DETAILS
THE BOOKING LINK ON THIS PAGE TAKES YOU TO OUR ONLINE SHOP WHERE YOU CAN SELECT AN APPROPRIATE PAYMENT AMOUNT YOU WISH TO MAKE (deposit, full course or balance amount)
ONCE PAYMENT IS MADE, YOU WILL RECEIVE AN AUTOMATED EMAIL CONFIRMING OUR RECEIPT OF FUNDS (PLS CHECK YOUR JUNK BOX).
WE WILL BE IN TOUCH JUST BEFORE THE EVENT TO RECONFIRM WORKSHOP DETAILS TO YOU. ALL WORKSHOP MATERIALS ARE INCLUDED IN THE COST SO DO NOT EXPECT A MATERIAL LIST JUST COME WITH YOUR SEWING KIT AND HAT BLOCK
DO REMEMBER TO DROP US AN EMAIL AT info@thecreativeworkshops.com IF YOU HAVE ANY PARTICULAR COURSE ENQUIRY. WE WOULD BE HAPPY TO HELP. Thank you!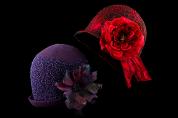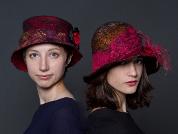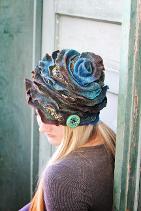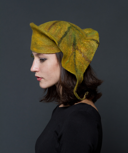 Fantastic Felt and Nuno Hats Masterclass by Dawn Edwards - 2 DAYS on

WED 7TH -THUR 8TH OCT 2020
During our felt exploration, there will be ample time for experimentation, as well as inspiration, as we create fabulous felt and nuno-felt hats. We will focus on techniques, patterns, and concepts…using both open and closed resists (and some using multiple resists) … to design our sculptural felt creations. Such a dilemma…So many hats and only one head! Which style will you choose? Fun, whimsical, or classic? The choice is yours.
We will create our hats with Merino wool tops with the option of incorporating lightweight silk fabrics for nuno-felting. You will love the artistic possibilities, with functionality as an added bonus.
We will create our hats over a template (flat resist), using wet-felting techniques. Tutor will bring an assortment of patterns for our workshop..
This class is ideal for Beginner Hat Makers, Intermediate Hat Makers, Advanced Hat Makers,Hat Wearers, Hat Buyers and all Adult
Workshop Materials will be provided.
Hat blocks will be provided if you don't have one.
With an initial £200 non-refundable deposit, you can secure your space on this £435 two days of Masterclass teaching!
Remember:
Instalment payment options available available
Workshop materials will be provided, just come with your sewing kit and hat block
Full lunch provided
Tea, coffee and snacks served throughout the day
A lovely learning environment
Date: Wed 07/10/2020 - Thur 08/10/2020
Class Time: 10am-6pm daily
Course Price: £435
Workshop Venue:
Knowledge Dock, 4-6 University Way, Royal Docks, London E16 2RD)
Nearest train station: Cyprus DLR Station
Booking Details:
Booking can be taken via the following:
This website's Online Shop - This is the PREFFERED AND EASIEST method!
Phone: +447985615951
Email: info@thecreativeworkshops.com
This website's Contact Page
Dawn Edwards is a felt artist and tutor based in Plainwell, Michigan USA. She sells her work under the label 'Felt So Right' and teaches extensively within the USA and internationally. Her felt art has appeared in numerous exhibitions, shows, magazines and books, including Ellen Bakker's book Worldwide Colours of Felt, several issues of the Australian 'FELT' Magazine, the International Feltmakers Association Felt Mattersjournal, the HGA journal Shuttle, Spindle & Dyepot, the Russian magazine 'Felt Fashion', and most recently her 'Blue Coral' felt hat was chosen to appear in the summer 2019 Fiber Art Now Felt: Fiber Transformed.
Dawn is the co-coordinator of the not-for-profit group, 'Felt United', which currently has over 7,000 members, with the goal of uniting feltmakers from all around the world
Dawn's website: http://www.feltsoright.com